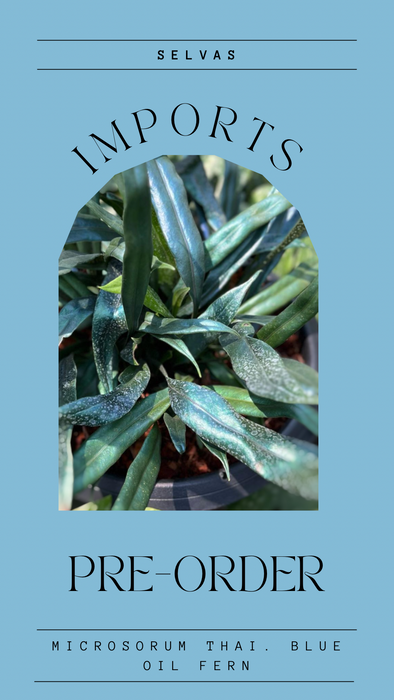 PREORDER Microsorum Blue Oil Fern
Original price
$65.00
-
Original price
$65.00
Pre-Order For End Of September aprox. 
Have you been searching for a wishlist plant ? Afraid to order online because of the increase in scams, poor quality plants or just tired of bidding ? We got you! We give you the opportunity to pre-order your desired plant stress-free from trusted sources. 
Please make sure to read below before making your order.
The following applies to all pre-orders:
(1) We reserve the available plants for you after we have received your order. We go by row. The sooner you order a plant, the higher the chance of an on time or earlier delivery, as you are higher up on the order list.
(2) Plants that we import from outside of US stay in our grow tent for at least 3-4 weeks to acclimate. For pre-orders we only send plants that are fully acclimatized and healthy meaning we have seen new root growth or leaf growth on the plant. 
(3) For Pick Ups: All pickup orders will be messaged via text or email when your plant  is ready (SO PLEASE WRITE DOWN YOUR EMAIL IN YOUR ORDER!)
 (4) For Shipping: All shipping orders will be shipped out once the plant is finished acclimating (showing new signs of root growth or leaf growth). Tracking number will be sent. 
Thank you all for the continued support we have many more surprises in the near future.
 Stay Tuned, & Good Luck! 

- Las Selvas